12th Georgia Volunteer Infantry Regiment
Recruiting in the New England Area
The Liberty Greys
6th Regiment 1st Division
Army of Northern Virginia

The 12th Georgia Volunteer Infantry/Reactivated is a member of The Liberty Greys 6th Regiment 1st Div Army of Northern Virginia.
War Between The States-Reenacting/Living History Group. The 12th Georgia reenacts in the New England Area.
Single membership dues and insurance will be $30 yearly, plus $10 per child. If a single adult member joins mid-season, the cost is $2.50 for each remaining month in the calendar year. Make all payments payable to the 12th Georgia. (Tom Bailey Adjutant POB 189 Athol MA 01331)
12th Georgia Tentative Schedule 2014 Season (to date)

February Muster( 12th GA) TBA

March Muster ( 12th GA) TBA

April Muster ( 12th GA) TBA

April 6 2nd Hartsuff SUV Camp Swap Meet

Rockland MA 9AM - 2PM

April 21- Acton MA Faulkner House High ST ( 12th GA)

April 25 26 27 Confederate Memorial Day Chase Farm RI

May 1-4 150th Wilderness/ Spotsylvania May 1234 http://150spotsylvania.com/

May 26 Sudbury MA Parade and barbeque ( 12th GA)

June 14 Leister MA Founder's Day Parade/Encampment ( 12th GA)

June Fort Adams TBA

July 25-27 Red Apple Farm Phillipston MA

August 16-17 Hillsborough NH

August Holden Days Holden MA ( 12th GA) TBA

August 22-24 Gettysburg Live Gettysburg PA

September 12-13 Green Hill Park Worcester MA

October 3-5 Battle of The Pines Look Park Florence MA

October19-21 St Albans VT http://www.stalbansraid.com/

October 13-15 Cedar Creek http://www.cedarcreekbattlefield.org/reenactment.html/

November Remembrance Day Parade Gettysburg PA

Note: Each season there are many excellent events throughout the country you are welcome to attend. If you wish to attend another event, there are many not listed here. Search a major listing for a specific event. Once you are registered, certified in the field, familiar with drill, trained and insured, you can fall in with another unit, which might attend, or a provisional unit, which would be set up to service individuals or small groups. Have a safe season.

Please join the 12th Georgia Yahoo! Groups below for questions and updates.


Welcome to Reenacting and Living History
We hope this website helps you find any answers that you have about us and our events. Included we have informational links on some of the pages for you to reference. If you are interested in joining the 12th Georgia, we look forward to meeting you. Be certain to contact our recruiter,
Tom Bailey
. Thank you, Major Tom Fearebay, Captain David Pincins - Company G, Captain Larry Todd - Company F, and Captain Mal Grant - Communications.
Green Hill Park, Worcester MA, 2013
We encourage soldiers to bring their families with them and have them participate in events, making sure of course that they're able to provide adequate shelter for them. Soldiers may have their wives, girlfriends, Significant Others, etc., camp with them on the Co. street. Single female Civilians may camp on the Co. street or on HQ row, wherever they feel most comfortable. It is our intention to keep The Hobby fun and accessible for all.
*** See photos by Jack Jay Jenkins, Thunder Mountain Photos:

Click to join 12thGeorgia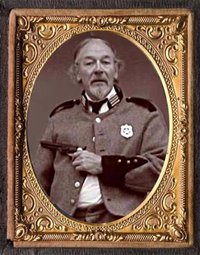 Mal Grant, Webmaster